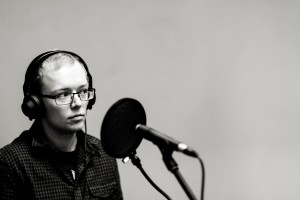 Davids Songs suchen Schönheit in der Melancholie alltäglicher Momentaufnahmen. Dabei treffen karge Akustik-Gitarren auf dichte, echo- und hallgetränkte Klanggebilde und bauen ein Gerüst für die nachdenklichen, minimalistischen Texte – mit dem Slowcore im Geiste und dem Folk im Herzen.
Auf Different Trains Records ist bisher das Album "Zwischenräume" sowie die EP "Fremde Fenster" erschienen.
David's songs search for beauty in everyday-melancholia. Sparse acoustic arrangements meet echo- and reverb-laden soundscapes and build a home for the thoughtful and minimal german lyrics. The musical reference points range from slowcore to post-rock and folk.
By now, the LP "Zwischenraeume" and the EP "Fremde Fenster" have been released on Different Trains Records.