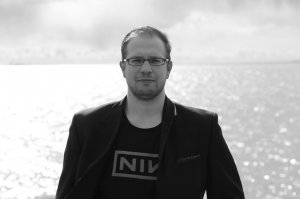 Elektronische Musik aus Finnland.
Seit 2011 macht der Finne Valtteri Hyvärinen unter dem Projektnamen Desert M instrumentale elektronische Musik. Die manchmal melancholisch-schöne, manchmal brutale, manchmal tanzbare und manchmal verwirrende Musik lässt sich von einer Vielzahl von verschiedenen Welten inspirieren – u.a. von den unendlichen Weiten des Weltraums, von düsteren, dystopischen Zukunftsvisionen und natürlich von der nordischen Natur und ihrer Kälte, Roheit und kargen Schönheit. In der Musik vermischen sich Einflüsse von verschiedenen Musikstilen, aber besonders Elemente von Videospielmusik, Retro-Elektro-Pop im Stile von Kraftwerk, Techno und den düstereren Klängen der Industrialmusik. Das Endprodukt aber ist etwas völlig Eigenes.
Electronic music from Finland.
Since 2011 Finnish Valtteri Hyvärinen has been making instrumental elektronic music under the name of Desert M. His sometimes melancholically beautiful, sometimes brutal, sometimes danceable sound is inspired by a multitude of different world – the infinite vastness of space, dark, dystopian visions of the future and of course the nature of the North and its cold, its roughness and its bleak beauty. The music mixes together very different styles but especially elements of video game music, retro electro pop in the style of Kraftwerk, Techno and the dark sounds of industrial music.The result being only itself.